30 Days of Lists | December Edition Giveaway!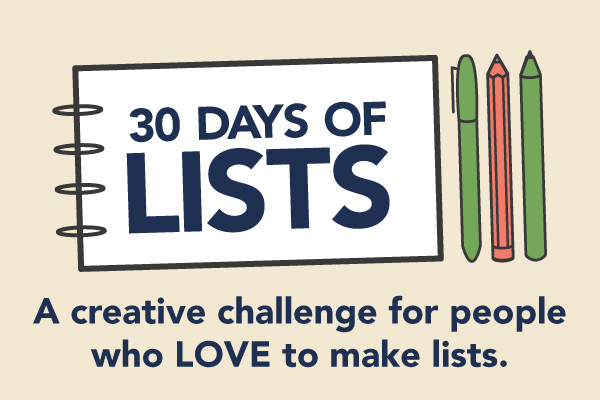 30 Days of Lists (my favorite online journaling challenge) is gearing up for special December Edition!
If you're new to 30 Days of Lists, here's a little background info: 30 Days of Lists is a semi-annual challenge run by Amy of Lemon & Raspberry and Kam of Campfire Chic. Amy & Kam believe (and me too) that this challenge 'is perfect for those of you who don't feel very creative right now — because a list is easy to make, and we're firm believers that there is no wrong way to make a list'. After begging and pleading from the 30 Days of Lists community, Amy and Kam decided to run a special December edition of 30 Days of Lists! 

List of Reasons to Join: 
It challenges you to write (just a bit) each day for a month.
This is a great challenge to incorporate into your December Daily album.

There are no rules. It's whatever you want it to be.

I have made some of my best friends through this challenge.
It's fun to write with no grammatical strings attached.
You can be as creative (or not) as you want to be.
It's awesome to look back and see your completed lists from previous rounds.
I'm doing it, and I try to do only do cool fun things.
I made an awesome kit to go with the challenge!
The (ever-growing) community is filled with amazing and inspirational people.
Giveaway now closed
I know that a new challenge might not be in everyone's budget, so that's why I'm giving away a spot in this awesome challenge!
EVEN BETTER NEWS.
If you register for 30 Days of Lists AND you win the giveaway, your registration fee will be 100% refunded (December 2013 registration only). 
If you're still on the fence, make sure to check out the March 2011 list prompts FOR FREE! and if you need more prompts to satisfy your list cravings, check out the previous rounds of 30 Days of Lists — now available as self-paced pdfs.
And if you're a more visual person, here's some creative inspiration:
My Listing book from September 2013 (kit available here).
My listing book from March 2013 (more pages here).
To Enter the Giveaway
Please leave a comment below telling me how you're planning on documenting your December.