Visit the main page for challenges, games, & inspiration from crafters around the world.
[divider_double]
A big thank you to Diana of Shop Ladylike for her guest post!
LOVING YOUR CRAFT
Have you ever wanted to ask fellow artisans how they got started in their craft?  Being a curious kind of gal, I love to hear their stories.  Through their tales, it can be awe-inspiring to take those first steps toward your new passion.   I know a professional artist, photographer, knitter, author and I'm amazed at their talents.  I personally know a few developed their gifts from youth while some fell into it by accident.  One day they were gifted a camera and their love for photography became all consuming.  Others become accidental artisans who are fortunate enough to find their gift and pursue it.  In the same vein, from childhood I've always had a thirst to learn or try something new.  I can actually say that I've even been a little bit of a daredevil. Don't ever tell me I can't do something!  That's when I'll surprise you.   One little question started me down a path I never would have anticipated.
While talking to my cousin one day, she asked the big question.  "Have you been knitting?"  She had to be kidding.  I hadn't picked up needles since I was in college.  With a little encouragement from her, I bought some needles and went about trying to learn how to knit and purl again.  BUT first I had to remember how to cast on.  All thumbs and pinkies, I was a tad disappointed by the sight of my first few rows. This just wouldn't do.  Not one to give up easily and with her over the phone tutorials, she retaught me how to knit!  Together with YouTube videos and printing off lots of easy patterns, I got my knitting mojo going at a steady pace and I never looked back, only forward.
I have a love for the art of sliding those needles and yarn from one side to the other.  I've enjoyed making my first pair of socks, baby sweaters for all of my great nephews and niece and fashion items for women.   This love of fiber arts brought about my daughter Kristy and I opening our shopladylike offering both knitted and crocheted items.  Over the years, I've designed and created unique headbands for ladies and children.  Who would have guessed that I could actually take yarn, needles and hooks in hand and feel confident to make a pattern specific for our shop and customers would want to purchase them?
Do you have doubts that's stopping you from attempting that new project idea?  Do you buy all the necessary items and then put them in a drawer?  Take them out and surprise yourself.  Believe and you'll amaze yourself!  If I didn't have that little push to retry an old craft,  I may not have found my perfect niche to share my items with family, friends and actually open our Etsy Shop.
From my blog you can find Shopladylike links to my Facebook Fan page, Twitter, Pinterest, and Instagram.  I'd love for you to link up with me and share your craft story or what inspires you.
Giveaway!
Shop Ladylike is generously giving away one of her amazing knitted headbands to one lucky reader.
Please leave a comment below telling us how you got started on your crafty journey.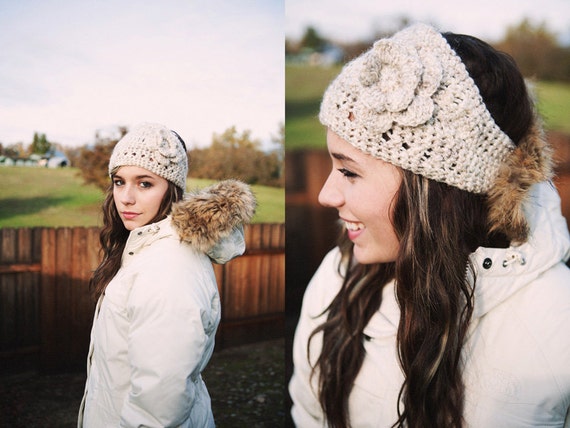 Handmade Ski and Snowboarding Headband crocheted in a creamy soft wheat color with a beautiful flower to make you look stylish on the slopes. This cozy and pretty soft acrylic headband has a two button closure for size adjustment. 

PS — This headband is on my Christmas list (-Kristin)

[divider_double]
Play along using hashtag #holidayextravaganza.
Celebrate with 30% off everything in the rukristin shop.